STRAND MEDICAL
1B The Causeway, Goring By Sea, Worthing, BN12 6FA
Sorry, we're closed

Telephone: 01903 243351
Cancellation Line: 01903 705855 (Please leave a message)
Preparation for my Visit
Please use this page to become more informed about the surgery in preparation for your visit:
Arriving at the surgery:
If you arrive to the surgery by car, you can park down The Causeway (A). If you arrive by train, please get off at Durrington-on-Sea station, walk out of the front entrance and you should see The Strand approximately 200m down the road on the right (B). There is a big sign so it should not be easy to miss!
(A) The Causeway- you can park on this road.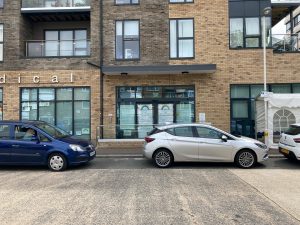 (B) The front, glass doors.
Once at the doors (B), they will open automatically and you can walk in to the reception area (C). There are check in screens on the right (D) and the left (E) which are easy to follow.
(C) The reception
(D) Check in screen 1
(E) Check in screen 2
The check in screens will ask you the following:
The month you were born
The day of the month you were born
The first letter of your surname
The screen will then tell you take to take a seat in the waiting room (F) which is to the left of the reception.
(F) The waiting room
The tables surrounding the waiting room are for the COVID-19 vaccination clinics, and are not normally there.
If you do not want to use the screens, or you have any problems or queries, please feel free to approach one of the receptionists sat the at the front desk (G).
(G) The front desk
Other helpful information:
We have toilets here at the surgery, so please ask a member of staff and they will be happy to direct you.
The doctors and nurses are very understanding, so if you are worried about anything or need a procedure done in a different way, please do not hesitate to tell them.
If you are overly concerned about the COVID-19 procedures carried out in the practice, ask a member of staff for advice. Everyone is understanding that it's a difficult time and no one is going to get upset with you if you do the wrong thing by accident.
Please click here to view and print a helpful resource for our patients with ASD.